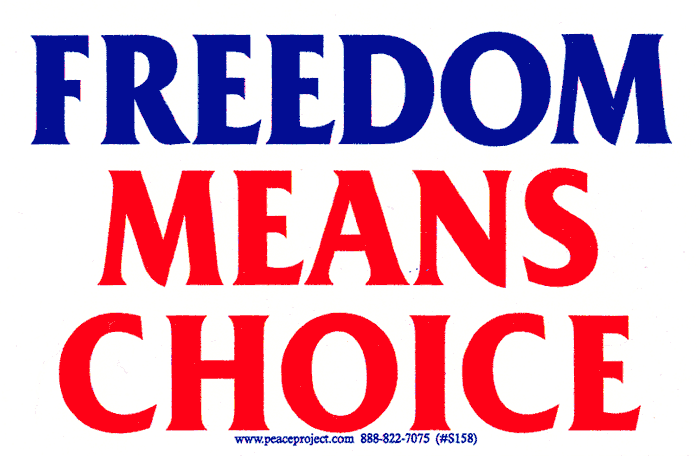 In the past few months I have come to realize I am very pro-choice. The medical school I am attending has a "Students for Choice" group that meets every so often and a "Students for Life" group that was recently started but has not had its first meeting. Between some recent discussions at school and some things I read recently on Tumblr (where else?), as well as my volunteer job at a women's care center, I've been reminded quite a bit recently about all the time I spent in high school reading books about abortion and all the issues surrounding it. I read books by nurses who had left abortion clinics and by doctors who were still working at them, by women who regretted ever after what they had done and by women (Christian and not) who were writing because they were thankful for the abortion they had.
It's been a few years since high school. I've been to college and I'm in medical school. I've watched babies born and I've heard stories to spin your brain and break your heart. What I believe is not simply the product of my parents' beliefs or their decision to homeschool me or churches they took me to. I'm an educated (by my own research, not just my parents or the state) adult woman who thinks about what she believes.
I love choices. I believe in giving people choices. Options. Possibilities.
Which is why I reject out of hand that
"pro-choice" has come to stand for the forever-ending of choice.
Call me anti-abortion. No kidding. Abortion. Defined by Planned Parenthood as a safe and legal way to end a pregnancy. Do you know what ends a pregnancy? Two things. Birth. Death. Abortion usually doesn't involve a birth. (If it does it's considered to have failed.) Therefore. Abortion is death. In other words, obviously not safe for the pregnancy and sometimes (more often than you'd like to believe?) not safe for the woman.
But don't you dare call me anti-choice.
Once you choose death, there are no more choices coming. Clearly no more choices for the baby** and so many fewer choices for the baby's mother (and father).
**or fetus or embryo or whatever you want to call it. Straight-up google fetus and the literal meaning is an unborn offspring of a mammal, in particular an unborn human baby more than eight weeks after conception. Google embryo and the literal meaning is an unborn or unhatched offspring in the process of development, with synonyms being fetus, fertilized egg, unborn child/baby, zygote. And to simply use common language - how many expectant mothers do you know who talk about their baby? How many talk about their fetus? Basically fetus is the medical term for a baby at certain stages of development. Just like embryo and zygote.So spare yourself the embarrassment and don't tell me it's "not a baby." I live off words and science and I know what the words mean.
Having the baby will change the woman's life? Clearly. So will killing it. The difference is once the baby is born she can chose the kind of change she wants. Keep the baby? Have the baby adopted? Every choice has so many choices following it...unless you decide to give up your choices. And it's one thing to give up your choices. It's another thing to take away every choice your child could ever have.
Nine months will not destroy your life.
I could have gone to college a year earlier than I did. I decided not to, and spent an extra year in high school living with my grandmother while she was treated for cancer. I'm in medical school this year and not even behind. I had a friend in college who had just had a baby - she's now in graduate school and posting adorable pictures of her husband and child on facebook in between posts on her work and school. You can recover from a nine month interruption.
Abortion does destroy life.***
Your zygote, embryo, fetus, baby, isn't going to recover from that.
***Surely with medical technology where it is, we are not still arguing about whether or not a fertilized egg constitutes life? An egg or a sperm alone is like any other cell in your body - part of something that is alive. It is not, in and of itself, alive, anymore than a piece of your pancreas taken by itself fits the definition of life. But once an egg has been fertilized, it is something else.


This is why the fingernail clipping as equivalent to abortion argument literally makes me want to cry. Stop talking before you humiliate yourself and spend the time your mouth would have been moving to go educate yourself about basic biology and what cells are and the different kinds and how meiosis and mitosis work and what the difference between them is.
And yes, that might sound a bit harsh. I know that not everyone has supportive family or the opportunities for graduate school or medical school - that maybe it does look like 9 months of pregnancy will lose someone her job, her insurance, or any chance of becoming who she wants to be.
And I hear a lot that "anti-choice" people care only about life pre-birth and that mother and child afterwards can go starve for all these people care. (This and this kind of stuff.)
To which I say baloney. You have a fundamental misunderstanding of why you are even being opposed. It's not that certain lives or stages of life are more valuable, but that if you do not have value and rights from conception you do not have value or rights at all. I could go on and on, but I'll stop at saying I'm volunteering at a women's care center - its entire purpose is to provide women with an alternative to Planned Parenthood's choice-destroying option. And no, they don't lie about statistics and shame women into full-term pregnancies there. Baby clothes, supplies, support, education, connections...all are available, and that's just one small place run by a few volunteers in my town. Yes, some places focus more on supporting women through pregnancy than afterwards. Please don't tell me you expect every single organization to offer help to people all over the world at any point in their lives? Dividing and specializing works a lot better. But there is support available.
Personally, I would rather work with young children/families in difficult situations, and that I what I hope to do in the future. But I can't serve them there if you've already killed them, can I?
I always want the third option. The alternative to the alternatives. More choices. More possibilities. I reject either-ors whenever I can. How many babies would I personally adopt to save from abortion? As many as I needed to. I'd rather not adopt anyone unless I was married, but I'd stop medical school right now if it would be the impetus needed to stop someone from having an abortion. I am for life at any stage, and I don't think there are many excuses for not finding a way to better the lives of those around you. I'm going into medicine just to be able to serve the best that I can.
And no, I'm not against women have the right to their own decisions, or their own bodies. God Himself gave free will, and there are few things I want less than a fellow human telling me what I can or cannot do with my body.
But that thing in them is not their body.
HINT
Whether they wanted this baby there or not, he or she is there, a different person with different DNA, and as such does the baby truly have no rights at all? Are you willing to follow that logic all the way to the end? (You know where it goes, right? Have you read the things linked to here?) There are many times people become dependent on others, and will die if they are not cared for. Should we really have the option of killing anyone not fully independent? (You're on a ventilator. You're a conjoined twin. You're two days out from conception. You still deserve to live.)
And quit calling an unwanted fetus a parasite - you do realize pregnancy provides benefits to the woman's health, not just discomfort and inconvenience, right? Also that this is the way humans (and quite a few mammalian animals) reproduce? It's how the whole thing works?
T
he only way you can defend getting rid of a fetus is by denying his or her humanity, and so destroying your own.