Annabeth's War
and author
Jessica Greyson

.
You have no idea how excited I am to be able to interview Jessica as an author... but I've been waiting for this for oh, probably about 11 years. And AW is one of my favorite of her stories.
So, combine one of my absolute most favorite things to do (reading) with one of my absolute most favorite persons in the world (Jessica) with a story about one of my absolute most favorite heroines ever (Annabeth)...
Yeah, I'm pretty crazy excited. XD
It's a book I'd recommend to anyone without hesitation, and hopefully with just enough raving to get them interested, not scare them off. ;) I've read it at least 5 times - maybeacouplemore - and yet even as I was reading it one last time pre-publication, I found myself drawn inescapably back into the story. Yes, it is that good. I'll probably posting a slightly more coherent review sometime this week. XD
A

nyway, the interview! :)
Sooooooo delighted you could be "here," Jessica! :D
What is the most important thing God has taught you through your writing?
I don't know if there is one single thing, but rather a culmination of so many wonderful beautiful meaningful things. Through Sufficient Grace, He taught me that He is really enough, and the meaning of hope, grace, and love. Annabeth's War all things work together for good. Each novel has its own nugget of truth to unearth in my life.
What book/author has influenced you the most? What book/author would you say has influenced your writing style the most?
That is difficult to say; it's changed to so much since I started. I would have to say it's a combination of a lot of different pockets with authors. My mom says I sounds like Lois Walfrid Johnson….
What's the craziest thing you've ever done for story research?
*giggle* I've researched sooooo many crazy things it's not even funny, bullet, injuries, choking, can shock kill you (it can, by the way); I think the weirdest one though was I wanted to know if I could hang a character and still rescue him. Turns out I couldn't, at least not the way I was planning on hanging him. Last night I googled describe the taste of champagne. It really didn't help.
At what stage are the books you are currently working on? (How soon can we read them?! ;)
A lot. Daughter Deputy is a W.I.P. and Captive of Raven Castle is one I am hoping to get moving shortly…that or Sufficient Grace and you can read them as soon as well…possible. At least that is the plan. Hannah's Silence - it's the prequel to Sufficient Grace told in the voice of Grace's sister Hannah. And I still claim to be working on my Star Trilogy, even though I haven't touched it for months.
What can you tell us about them?
Daughter Deputy was inspired by a picture and a short story. The story of a girl in the Dakota's who deputized by her dad because he needed a deputy and couldn't really trust anyone. It's been smoldering in the back of my mind for about 2 years now and just came to light finally with a plot that I felt I could work with and we are running with it.
Raven Castle was my NaNo Project back in 2010. It is the story of a princess torn between her father and the rebel king who claims that he is really hear father, a failing country, lies and truth and the mixed up world she lives in.
Hannah's Silence could open up with the melodramatic line This is the story of how I died… but that really would steal all of Rider/Eugene's ideas. Besides the story is very very different.
Is there a favorite sentence you've written this week that you could share?
Sentence???? how about short scene? :D
Sophie sighed and followed him finding his hand offered to her. Distaining to take it, Sophie gathered her skirts in both hands and started to step down from the coach as her skirt caught and suddenly Jesse had her in his arms and he set her down on the board sidewalk.
"That is what you get for trying to be independent missy," he said in a sharp tone.
Sophie found herself stamping her foot and lifted her chin in air, even though she was rather at a loss for words
"A thank you would be nice. You were taught you manners you know."
Sophie smiled and turned to the coach driver, "Thank you so much for the safe ride." Then she glanced at Jesse with upraised eyebrows and a mock droll expression as she turned and entered the open door of the hotel.
Otherwise it might be this…
"Jesse!"
Is there any particular lesson or idea you hope readers take away from your books?
I always hope I put something worth take away in each of my books…each book has taught me something and I hope they find it.
How many words per month do you write, on average?
hee…depends on the month. I actually have no idea, to be honest. I've written whole novels in a month so that would be close to 50,000 words; then I've been so busy squeaking out 100 in a single week is amazing, so we'll say 8,000…at least that is what it's been about recently.
Do you find more inspiration from music, pictures, movies, or other books? Is there something from one of those things in particular that has provided you with a lot of inspiration?
I think pictures for me have been one of the strongest things. I am a visual learner, and it's very easy for me to see exactly what I am writing about without putting down the details. Also, Raven Castle was entirely inspired by pictures. Music would probably be my secondary since I also love words and here is nothing like having the right song come on at the right moment to set up the mood. Movies I find are too easy to plagiarize, but are wonderful inspiration to borrow and steal from.
If you could meet one of your characters in real life, which one would you choose to meet and why?
SERIOUSLY!!!! ALL OF THEM AT ONCE! Hmm. Right now I'd love to meet Annabeth simply because well, she's pretty wonderful, but the one I've wanted to meet for the longest time would be Phabian from I am Louisa. (he's kind of a special favorite).
When and Where and How can this awesomely amazing book be purchased?
When it is released and my hopes are to have some signed copies available from my blog and more generally available through
Amazon.
How can one obtain a signed copy?
How long did it take you?
About a month. I don't really remember.
Do you have favorite characters?
My two MC's, of course, Annabeth and Ransom; but I think the one character I wasn't expecting to find or like would have to be between Song Lark (he jumped in rather unexpectedly) and Eliot.
Do any of the characters have a theme song?
Yes,
Annabeth's is
Hero
by Heather Dale.
Where in the book is your favorite part?
Deep down I am afraid I might be a sap…I love this line a lot probably because only a few paragraphs before …we read this…
Walking through the sunlit hallways of Raburn's castle, she tried to feel the sun's warmth, the breeze that washed its way through the windows, but to no avail. She felt nothing but the ache and pain and agony of trying to feel something different.
So to write this…
She felt him coming near her, his shadow falling over her from the one flickering torch set outside her cell. A moment later, he stood only inches away, his fingers barely daring to touch her cheek.
"Annabeth." His voice was warm and gentle, as if he had put the sun into words.
"What are you doing here?"
"I've come to rescue you," he whispered.
Felt beautiful and perfect.
It was... XD
Thank you for doing this interview, Jessica! :)
And the Giveaway!
Jessica has graciously offered two prizes:

an amazing Annabeth's War charm bracelet - absolutely beautiful! O.o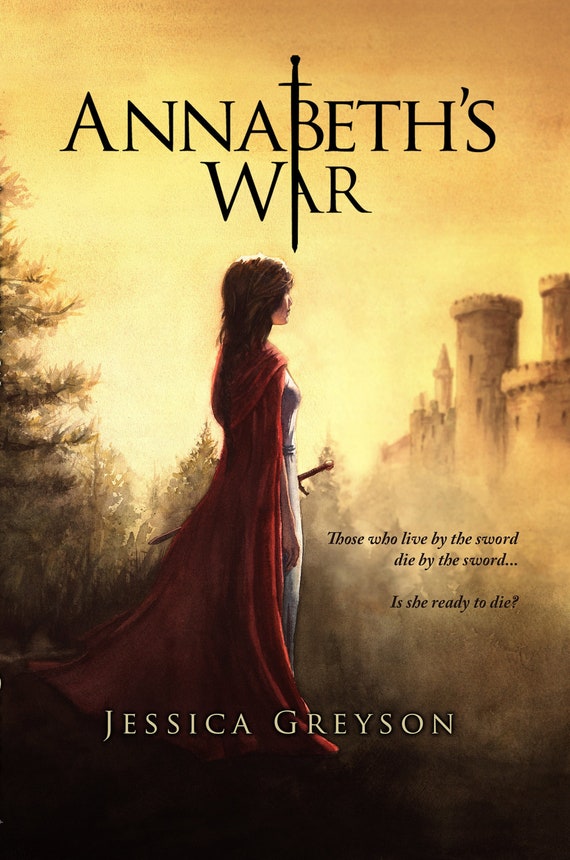 and your own copy of this amazing story!!!
The minimum number of people necessary for the bracelet giveaway is 10! So please tell everyone you know to enter it!!
The minimum number of people for the book giveaway is 20! Ditto to above!!!
If you want one of these two items, spread the word! :)
Soo... assuming at least 10 people enter, :) to win simply enter below. The giveaway will end at midnight on Friday the 14th, and the person with the most points gets the bracelet!
(If more than 20 people enter, then the person with the most points gets to pick which they want and the person with the 2nd most points gets the other item. :)
a Rafflecopter giveaway
If you want extra points, simply add one of these to your blog and/or pin it on pintrest - 1 point each! Leave me the url(s) in a comment, and I will combine it with your rafflecopter-thingy score. XD
<div align="center"><a href="http://firstseekhim.blogspot.com/" title="Seek Him First" target="_blank"><img src="http://i845.photobucket.com/albums/ab15/Safirewriter/SeekHimFirst.jpg" alt="Seek Him First" style="border:none;" /></a></div>
Side bar…
<div align="center"><a href="http://firstseekhim.blogspot.com/" title="Seek Him First" target="_blank"><img src="http://i845.photobucket.com/albums/ab15/Safirewriter/SeekHimFirstsmall.jpg" alt="Seek Him First" style="border:none;" /></a></div>
And just 'cause I'm crazy... here is a fan-made book trailer for AW. XD
I own nothing... the pictures are all from various google searches... the music is from a Kdrama OST (which has rather epic music, btw)... and the story itself is, of course, Jessica Greyson's. It's super fast (hopefully you can tell what the words say...), but yeah, that's how much I enjoyed the story. :)