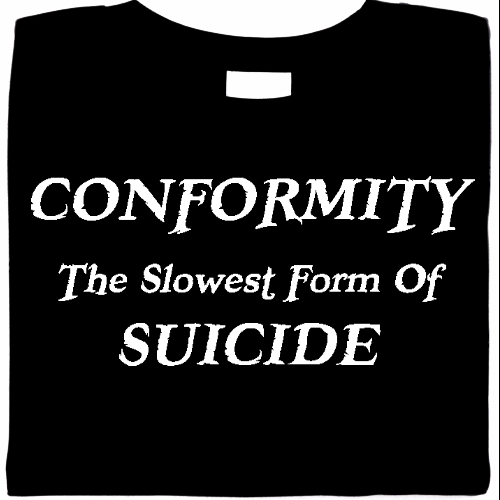 P
icture me... however well you know me...
Having survived the first two weeks of college, seated in the hallway, reading my physics book, and trying to have my music to drown out the sounds of people walking by. Still, I generally glance up when people walk by me; I can't help it.
It's a rather quiet hallway, thankfully, and studying is going better than usual.
Just then, someone goes by and then stops. When I look up, he asks me if I'm in one of his classes.
And yes, I recognize him as someone I had worked a problem with earlier in the week.
He says, "Yeah, I thought so... Ok, this has been bothering me. Because...
because you look weird."
And I'm like *jaw-drop*
"Uh....."
(I'll say right now it was a very awkward conversation, and I'm sorry for my part in that... I was just kinda surprised and didn't know what to say
at all.
LOL)
"You do."
"Really?"
"Yeah. Um, where did you go to high school?"
And I'm immediately thinking Oh, no! I knew I was going to give home schoolers a bad name! So I mention the high school where I did AP, and then reluctantly choke out, "And last year I was home... schooled..."
He's like "You what? I knew it!"
Whereupon he told me that he had been home schooled, and I stuck out, but he didn't mean negatively. And then he walked away, totally embarrassed, and I sat there, totally embarrassed
(
Which made me laugh later - stereotypical unsocialized home schoolers y'know.)
But, you know what?
For one thing, it was like, ok, just say right out that you've been home schooled. Apparently people can tell - this is not the first time people have asked me if I was home schooled, just the first time at college.
(Does that happen to all of you? Please tell me people ask you about if you're home schooled all the time...)
So now I feel bad for not wanting to admit it.
(Although it was not about home school making me look bad, but about me making home school look bad!) :)
But the really big thing is,
I had
just
been thinking about school so far, how big the classes were, how little chance there was to talk to people, and how easy it was to simply mix with the crowd and disappear. I felt invisible.
(Not that I really minded at all (
actually kind of liked it
), :) it just seemed like I wasn't mattering all that much.)
And it was like God was telling me that, no, people
are
noticing what I wear, what I say, and how I act.
Which surprised me, but also really encouraged me.
Because simply by being myself I am standing out, and can make a difference where I am.
And I am realizing the truth in this statement: